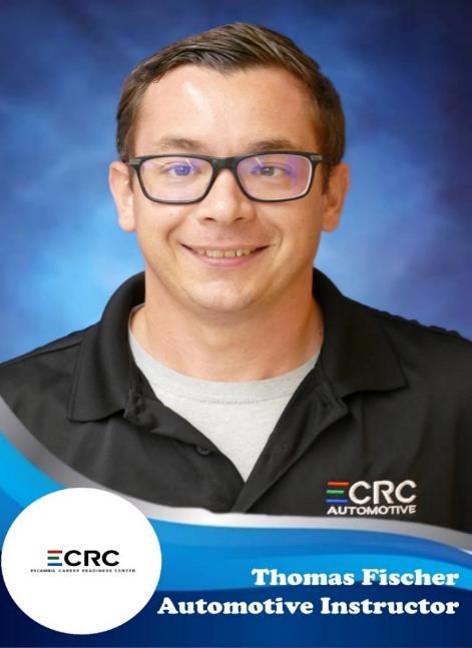 About the Teacher-Thomas Fischer
Education

Associates Degree: Associate of Applied Science, Parkland Community College

Bachelors Degree: Bachelor of Science Workforce Education, Southern Illinois University of Carbondale

Bachelors Degree: Bachelor of Science Automotive Technology, Southern Illinois University of Carbondale


Experience

2 Years Independent Automotive Shop

3 Years Ford Dealership

10 Years Teaching: 3 secondary, 7 post secondary


Bio

My name is Thomas Fischer, originally from Southern Illinois. My family moved to Brewton Alabama December 2020 to start my career with the Escambia County School System teaching Automotive at the Escambia County Career Readiness Center in Brewton.

Working on vehicles started in my teens when my uncle allowed me to come work for him at his independent garage that was started by my grandpa. I can remember my very first task on replacing a cylinder head gasket on an MG Midget. I pursued my passion and skills by taking 3 years of Transportation during high school. An opportunity became available to participate with a local Ford dealership through a program called Ford ASSET with Parkland College. After completing the Ford ASSET program, I earned an Associates Degree in Applied Science, became fully certified with Ford Motor Company as a technician and acquired work experience through the dealership.

My education continued through Southern Illinois University of Carbondale were I earned two Bachelors degrees; Automotive Technology and Workforce Education. My teaching career started in 2011 teaching automotive at the very highschool I attended. In 2014, I accepted a teaching job with the Ford ASSET Program. In 2020, my career transfers down to alabama to start teaching back at the secondary level.

My passion is education and training today's generation not only with Automotive Skills, but skills needed to be successful in the workforce and life. The focus is always on the student and how I can better their training through lectures and labs. With an advancing industry, I take pride in maintaining my ASE certifications and work experience within industry to better promote the learning environment.
Why automotive?

Whether you want to know how to change your oil to replacing your timing belt, knowing how to work on your vehicle is an occupation in the automotive industry of being a technician. With over 50(O*Net) occupations related to automotive, your choices are not limited to just becoming an automotive technician.



Where do I start?

What grade are you in? As a high school student, you are eligible to take automotive classes at the Escambia Career Readiness Center as soon as your Freshman year. Contact your school's counselor to start building your automotive schedule today.

Contact Mr. Fischer if you have any questions regarding automotive courses.

Email: thomas.fischer@escoschools.net

Phone: 251/867-7829 Extension 6113



What to expect?

Automotive Courses are offered at the Escambia County Career Readiness Center in Brewton Alabama.

As a student at ECRC, you will be exposed to lecture and lab for two hours with an option of a third hour lab. The automotive program at ECRC is accredited through the ASE Foundation with Mr. Fischer as an ASE certified instructor.

Students are eligible for the following

-Dual Enrollment with Coastal Community College

-Maintenance Light Repair Certificate

-CoOp in industry (Work Experience)

-Student ASE Testing


What are our Goals

The goals for the students who complete the program are:

1. Entry level positions in the automotive industry.

2. Continued automotive training at a community/technical college.

3. Related fields of study at a community/technical college.


Demand?

Mike Rowe is a strong advocate in skills trade and he has spent a portion of his career talking about the growing skills gap. Meaning, the need for skilled people is growing at a faster rate than jobs are being filled. In the automotive industry, the need for technicians between 2020-2030 is projected to be around 69,000 openings (O*Net). The median income for technicians is $44,050.

Skills Gap: Video


What Else?

Skills USA

You will receive an opportunity to participate with Skills USA at the chapter level and competition level. Show and improve yours skills with the opportunity to compete at a local level and national level with some of the top students in automotive programs.

Costs

There is a lab fee per semester of $20 (40 per year). These funds are used to help pay for Skills dues and field trips. If both semesters are paid in advance by the end of September, a $10 discount will be given ($30 per year).

Field Trips

Field trips are planned throughout the year to various manufacture assembly plants and local facilities.
Supplies
Classroom: Come daily with a pencil/pen.

Shop: No open toe shoes, wear personal protection equipment*, wear supplied shop shirt*.

*School will supply safety glasses and shop shirt

School FHS WSN TRM Neal Middle
A.M. Arrival 7:50 7:55 8:15 10:32
Early Leavers 8:55 9:35 9:35
A.M. Departure 9:55 10:30 11:15
School FHS WSN TRM TRM PEP
P.M. Arrival 12:00 12:15 12:15
Early Leavers 1:35 1:45 1:45 1:20
P.M. Departure 2:30 2:40 2:15


Fall 2021: 1-2, 5-6 Hour: Maintenance Light Repair A

Spring 2022: 1-2, 5-6 Hour: Maintenance Light Repair B

Fall 2022: 1-2, 5-6 Hour: Maintenance Light Repair C

Spring 2023: 1-2, 5-6 Hour: Maintenance Light Repair D

3 and 7 Hour: CTE Lab